A Kitchen Floor in Viera West Shows the Quality of Our Grout Cleaning Services
November 08, 2023
Keeping a clean floor can be time-consuming when you're part of a big household. A Viera West resident had always known how to tackle routine chores in the most active parts of her home, and that's why she was surprised when her cleaners did not affect her dirty grout. No matter what she did, the black grout lines made her kitchen floor look messy and unclean.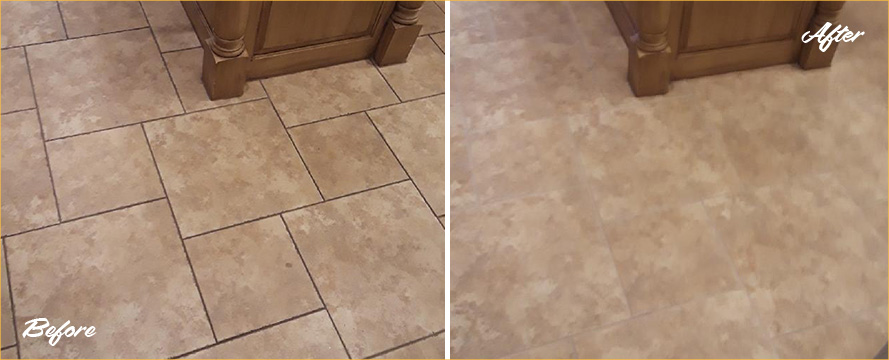 While trying to make a headstart on her other household responsibilities, the homeowner felt like the days didn't have enough hours for her to make any progress, considering the thick layers of soil running all over the floor. That's why she jumped at getting an in-home evaluation from our
Viera West grout cleaning
crew when she found Sir Grout Space Coast. Less than half an hour after the homeowner first visited our website, she'd scheduled an appointment with our techs.
Later that week, our techs visited the client's home as scheduled. They immediately began their inspection, observing the kitchen floor from all angles and checking the soiled grout. Most of the dirt had fully adhered to the grout pores, and regular cleaners only added to the problem. As our specialists explained, most of these products are infused with harsh ingredients that can damage in the long run, from cracks and discoloration of hard surfaces to health complications among the people nearby.
Once they completed their floor evaluation, our techs confirmed they'd dealt with similar issues. Most homeowners trust traditional cleaners without knowing the side effects of exposing hard surfaces to these formulas, making soiled grout a reasonably regular occurrence in high-traffic surfaces. The solution was deep cleaning the floor with the right products and equipment. To complete the restoration, our techs also offered to seal the grout lines and, in turn, enhance their resistance to external elements.
The client scheduled a second appointment, and our crew returned to her house two days later. This time, they had all the necessary equipment to revamp the kitchen floor. First, they soaked the floor with a special cleaner to simplify the removal of the stains. After a few minutes, our specialists ran a high-speed scrubbing machine several times, making their way around the kitchen area. Thanks to our powerful cleaning formula, it didn't take long to eliminate the thick layer of soil, grime, and mold covering the grout lines for so long.
For the second half of the restoration, our techs applied sealant to all the grout lines. Our signature ColorSeal has a nearly instant effect that transforms the grout's appearance to match the client's expectations. The homeowner wished to recover her floor's original layout, so our techs recolored the grout lines to match the lighter shades of the ceramic tiles. On top of improving the grout's appearance, our sealant provides long-lasting protection against external elements like mold, mildew, food residue, water, and other liquids. As a result, grout surfaces collect fewer stains, and homeowners don't have to struggle to upkeep their floor's brand-new look.
Our techs buffed the floor to complete the restoration and called the client into the kitchen so she could review the results. As expected, the floor's new beauty left her speechless. The tiles looked brighter, and the grout made a huge difference now that no stains were in sight. The client thanked our specialists several times and promised to tell more people about our grout cleaning services. She couldn't wait to show off the results of our restoration to all her friends and relatives.
Before leaving the client's home, our techs gave her additional cleaning advice. They told her that pH-neutral cleaners are the best way to save time and effort while cleaning high-traffic areas like her kitchen floor. Products like
Sir Grout's Natural Hard Surface Cleaner
will never let you down, leaving your floors spotless and glowing without prompting discoloration or grout damage. Our cleaner also preserves the sealant's effect on the grout because there are no chemical ingredients to wear down its protection. It works best when combined with non-abrasive tools like a towel or a mop, giving homeowners all the precision they need to scrub off stains on the corners and between the tiles.
Another recommendation was to waste no time after spotting footprints of food residue on the floors. Even minor stains can be hard to remove when dirt is embedded in the surface. Proper indoor ventilation is also essential to keep a hygienic environment and reduce the chances of mold infestation.
From years of professional experience to the latest equipment in the home improvement industry, Sir Grout Space Coast has everything you need to transform your kitchen surfaces. We have impressed many homeowners in Viera West with the most beautiful results after restoring their tile and grout surfaces. You can call
(321) 380-2844
for more information or
schedule a free quote
online to request an in-home evaluation. We invite you to trust our expertise, and in no time, you'll see an improvement in your cleaning results. Remember to subscribe to our
newsletter
so you don't miss out on our latest promotions and updates.